Plain Bushing-POM Lined Metal Backing Plastic Composite Bushing Bearing
POM Lined Metal Backing Plastic Composite Marginal Lubricating Bearing
PM Metal-polymer oil-lubricating composite materials are compound from metal backing (carbon steel,stainless steel or bronze) sintered with porous bronze and POM polymer inside wall as sliding layer.
Our Model Number: PM, PM-S, PM-F, PM-W, PMB, PMSS
Model names: SF-2, SF-2H, SF-2W, DX, PAP P20, FRIMIX, Glyco PG A, Glyco PGZ A (Inch-size), PCM M, PCZ M (Inch-size), SBP, POM-FEB, POM-LMB
POM layer colors: Yellow, Black, Bule, Red, etc.
Oil Pockets: available
Oil Grooves: available
Application:
Suspension joints, kingpin assemblies and stub axles of tucks, door joint hinges, steering and other linkages, rear chassis hinges,gearbox, clutch, bale trips and wheel caster swivels, front axle pivot bushings, steering idler box bushings and kingpin bushings etc.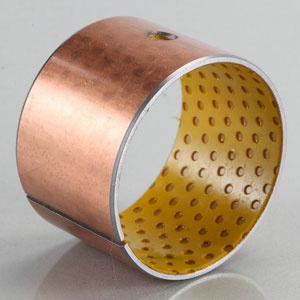 Oilless Bearing Catalogue in Steel Backed with POM Plastic Slide Liner