SPF Flanged Oilless Bush
SPF Oiless Bronze Self-lubricating Bearing Flanged Bushing
is manufactured using high tensile manganese bronze plugged with solid lubricants. Basic bronze alloy material is CuZn25Al6Fe3Mn3 with graphite (SL2) plugged, we also provide widely optional choice from CuSn5Pb5Zn5, CuAl10Fe5Ni5, CuSn12, and other standards materials.
Especially our company have developed the SL4 solid lubricants for water contacting applications like jet, propeller, ship, boatyard, offshore platform, hydraulic turbine etc.
These products are mainly used in applications of high load & moderate speed. It has the ability to withstand the temperature up to 400oC. We also have the capability to develop these bushes and plates as per any specifications of our clients.
SPF is casting bronze oilless bushing in flanged.Normally it is in side flange, also there is a type of middle flange and double flange.The material is zinc brass CuZn24Al6Fe3, lubricant is SL2 graphite composite.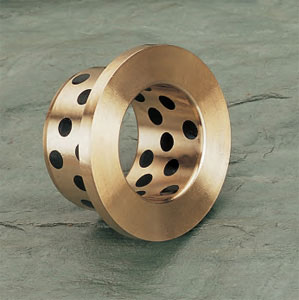 Bronze material

CuZn25Al6Fe3Mn3

+SL2

CuSn5Pb5Zn5

+SL2

CuAl10Fe5Ni5

+SL2

CuSn12

+SL2

Cu%

Rest

85

80

88

Sn%

--

5

--

12

Pb%

--

5

--

--

Zn%

25

5

--

--

Al%

6

--

10

--

Ni%

--

--

5

--

Fe%

3

--

5

--

Mn%

3

--

--

--

Density

8.2 g/cm3

8.8 g/cm3

8.5 g/cm3

8.8 g/cm3

Hardness

>HB210

>HB70

>HB150

>HB80

Max. Load Pressure

100 N/mm2

40 N/mm2

50 N/mm2

45 N/mm2

Max. Linear Speed

0.5 m/s(dry)

0.4 m/s(dry)

0.25 m/s(dry)

0.5 m/s(dry)

Max. PV

1.65 N/mm2 * m/s

1.00 N/mm2 * m/s

1.25 N/mm2 * m/s

1.20 N/mm2 * m/s

Tensile Strength

>750 N/mm2

>200 N/mm2

>500 N/mm2

>360 N/mm2

Elongation

>12 %

>15 %

>10 %

>8 %

Temperature Limit

-40 ~ +300 oC

-40 ~ +250 oC

-40 ~ +400 oC

-40 ~ +300 oC
Code

Material

Features

Application

SL2

Graphite composite

Low friction

Chemical resistant

Low cost

Temperature limit 400oC

Widely used for machinery
Remarks:
SPF in sleeve = SOB/SPB oilless bronze bush
SPF in SL4 = SPF-SL4 oilless bronze bush
SPF in Plate type + Alumininum Bronze + SL4 = HCS oilless bronze pad