PEB Bronze PTFE Bushing
PEB PTFE lined composite bronze backing oiIless slide bearing
is wrapped by steel backing, Sinter bronze inter layer and PTFE composite anti-wear inner surface. Also it is name SF-1 bushing in China and DU,DP4,PAP P10 overseas. It is wildly used in hydraulic gear pumps, oil cylinder, oil Damping bushes and piston rings for automobiles and motorcycles and textile, food-stuff machines, etc.
PEB oilless slide bearing bushing is in bronze backing with PTFE (teflon) composite layer inner coated.PEB model code means bronze in cylinder or flange or washer type bearing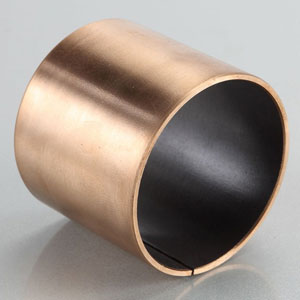 Technical Data

1.PTFE composite 0.01~0.03mm as sliding layer*
2.Porous bronze 0.2~0.3mm
3.Metal backing 0.7~2.3mm**
4.Tin-plating 0.005mm or copper plating 0.008mm
*Normally it is without lead, customized can add it.
** Metal in carbon steel, bronze or stainless steel.
Performance

Data (*According to steel backing)

Load capacity P

(Dry friction)

Static load

250N/mm2

Dynamic load

140N/mm2

Max linear speed V

Dry friction

2.5m/s

Oil lubrication

5m/s

PV value limit

Dry friction

3.6N/mm2.m/s

Oil lubrication

50N/mm2.m/s

Friction coef u

Dry friction

0.08~0.20

Oil lubrication

0.02~0.07

Working temperature

-200oC~+280oC

Thermal conductivity

40W/mk

Linear expansion

12*10 -6/K
Products Standard: ISO3547 (Replaces DIN1494)